Our board certified physicians with over 25 years of experience, are committed to provide the
best MFM care in Central Florida.
Dr. Thomas Myles, M.D.
Perinatologist in Central Florida
Dr. Thomas Myles, completed his residency in Obstetrics and Gynecology, at Illinois Masonic Medical Center in Chicago, Illinois in 1990. Fellowship in 1992 in Maternal- Fetal Medicine at Rush-Presbyterian-St Luke's Medical Center. He has been in academic Medicine for over 25 years, most recently as a tenured professor in the Division of Maternal-Fetal Medicine at St Louis University in Missouri. Dr. Myles was also the director of Perinatal Ultrasound for Saint Louis University Ob-Gyn department. Dr. Myles has been named one of the top Ob-Gyn physicians in the United States since 2006 by the St. Louis Magazine. Dr. Myles has authored over 50 peer review publications and book chapters in Maternal Fetal Medicine and Obstetrics.
Dr. Myles is now living in Central Florida with his family, and has privileges in the Osceola Regional Hospital in Kissimmee.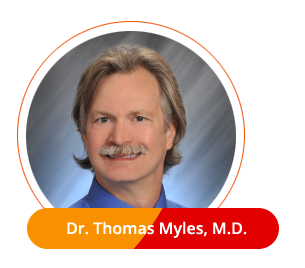 Professional Associations
American College of Obstetrics and Gynecology(1987 to present)
American Institute of Ultrasound in Medicine (2000 to present)
Central Association of Obstetricians and Gynecologist (2000 to present)
International Society of Ultrasound in Obstetrics and Gynecology (1998 to present)
The Society of Maternal-Fetal Medicine (1990 to present)
Awards
Excellence in Teaching Award; Association Professors in Gynecology and Obstetrics.
Named as the Top Doctor in America by both the Consumers' Research Council of America and Best Docs Inc. since 2003.
Feature as Top Doctor by St. Louis Magazine for over ten years.
Author for over 50 publications in Maternal-Fetal Medicine and Ob-Gyn.